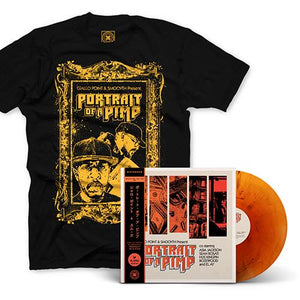 DESCRIPTION
Bundle 2 contains the following two products:
(1 PER CUSTOMER!)
001

OBI Transparent Crush Orange Marbled
001 Black t-shirt with Yellow design.
(WRITE YOUR T-SHIRT SIZE AT CHECKOUT / NOTE TO ORDER)
OBI IS HANDNUMBERED ON STICKERS.
Never to be re-pressed in this fashion.
SmooVth & Giallo Point presents Portrait Of A Pimp. 
TRACKLIST
1. INTRO
2. OPEN CASE
3. MIDNIGHT 
4. SLICK
5. HITMAN
6. 
STRENGTH MANUSCRIPTS (Feat. ASIA JACKSON)
7. SNITCHIN
8. LAST BREATH (REMIX)
2. SHOOTER (Feat. SEAN ROSATI & HUS KINGPIN)
3. THE HEIST
4. DIAMONDS 
5. REVENGE
6. FINAL SHOT (Feat. ROZEWOOD & EL AY)
8. PIMP TALK SHIT (Feat. HUS KINGPIN)
ALL TRACKS PRODUCED BY GIALLO POINT
SHIPPING
NOTE
Images of vinyl and t-shirt are digital mockups, and the final product may differ from the preview displayed on this product page. 
PRESSING
Pressed in 265 copies, but only 250 copies for sale. 
T-shirts pressed in 25 copies. 
CATALOG NO.
#CC010